Dirt
If you find a typo, inconsistency, or error, please sign up and help out the wiki! We can't do it without your help! :D Thank you!
Dirt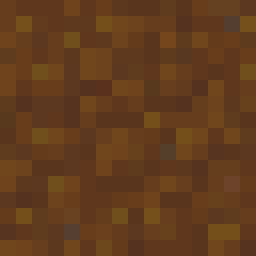 | | |
| --- | --- |
| Name: | Dirt |
| Type: | Block |
| Mine with: | Hand, Shovel |
| Drops: | Itself |
| Stackable: | Yes, 64 |
| Physics: | None |
| Found naturally: | Yes |
| Renewable: | Yes |
| Item ID: | dirt |
Dirt is a block that can have trees and other naturally generated plants placed on it.
Obtaining
Dirt can be broken by hand, but using a shovel will speed up the process.
Fishing
Dirt has a 0.36% chance of being caught while fishing with an unenchanted fishing rod. It is part of the junk category.
This makes dirt technically renewable.
Natural Generation
It is very easily found in forest biomes, plain biomes, mountain biomes, and mushroom biomes.
Usage
When a block of dirt has no solid blocks at least up to 3 blocks above it, it will eventually switch to a grass block. When tilled with a hoe, it switches to farmland.
Farming
Dirt is good for growing trees, bamboo and sugarcane. Itself and grass are the only block that passive mobs, such as pigs and cows, spawn on.
History
1.27: The texture of dirt was updated
Bugs
Since the dirt block only checks 3 blocks above it, it maybe change to grass underground.
Trivia
Easily get rid of the dirt when using acid.
Gallery
See Also