Sugarcane
If you find a typo, inconsistency, or error, please sign up and help out the wiki! We can't do it without your help! :D Thank you!
Sugarcane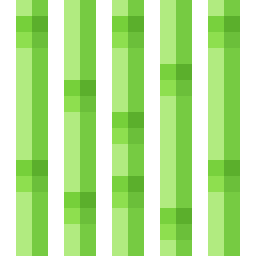 | | |
| --- | --- |
| Name: | Sugarcane |
| Type: | Plant, non-solid |
| Mine with: | Hand |
| Physics: | Grows |
| Found naturally: | Yes |
| Renewable: | Yes |
| Item ID: | sugarcane |
Sugarcane is a naturally occurring plant, which grows in a similar way to bamboo.
Obtaining
When mined with anything, sugarcane will drop itself.
Natural generation
Sugarcane is generated naturally in the overworld in forest and plains biomes.
Bonemeal
When bone meal is used on grass, there is a chance of it spawning sugarcane.
Loot chests
It can also be found in dungeon loot chests.
Usage
Crafting ingredient
A piece of sugarcane can be crafted into one sugar.
Use 3 pieces across the crafting table area to make three paper.
Farming
Sugarcane can be farmed by placing it on the ground. It will gradually grow (up to four blocks tall), and does not need to be on farmland, or near water. This means sugarcane is a renewable resource.
History
| Version | Date | Changes |
| --- | --- | --- |
| Unknown | Unknown | |
| 1.26 | May 31, 2014 | |
| 1.27 | Nov 13, 2015 | Updated the texture of sugarcane |
Pictures
See also