Shovels
If you find a typo, inconsistency, or error, please sign up and help out the wiki! We can't do it without your help! :D Thank you!
Shovel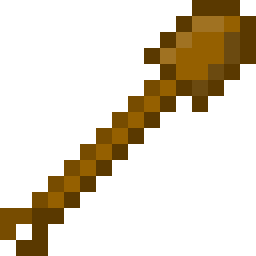 | | |
| --- | --- |
| Name: | Shovel |
| Type: | Item, Tool |
| Stackable: | No |
Shovels are used to dig soft blocks, such as sand, dirt and snow.
Obtaining
Natural Generations
Wooden and stone shovels can be found inside loot chests in ruins, dungeons, and the skyhold.
Crafting
Shovels are crafted using one tool material and two sticks.
Usage
Mining
Shovels are required to collect:
Shovels can be used to speed up the collection of these blocks:
Weapon
Shovels can be used to deal more damage than by hand, however they deal the least damage than any tool of the same material and use up two durability points when used to do damage to a mob.
Types
There are five types of shovels, each with different mining speeds and durability.
| Shovel | Material | Uses | Comments |
| --- | --- | --- | --- |
| | Wooden planks | 60 | Easiest to craft however it has the slowest mining speed. Can be found in the loot chest. |
| | Cobblestone | 132 | Second easiest to craft, and slightly faster than the wooden shovel. Can also be found in the loot chest. |
| | Iron ingot | 251 | Slightly harder to craft, however quite fast. |
| | Gold ingot | 33 | Fastest mining speed, however it is not recommended for regular use as it has very low durability, so is not worth spending one gold ingot on. |
| | Diamond | 1562 | Faster mining speed than the iron shovel, however slightly slower than gold. It has a lot of durability for how much it costs. |
Data Values
Different shovels have different item ids.
Here is a table:
| shovel | ID |
| --- | --- |
| | wooden_shovel |
| | stone_shovel |
| | iron_shovel |
| | golden_shovel |
| | diamond_shovel |
History
See Also