Dirt
Jump to navigation
Jump to search
If you find a typo, inconsistency, or error, please sign up and help out the wiki! We can't do it without your help! :D Thank you!
Dirt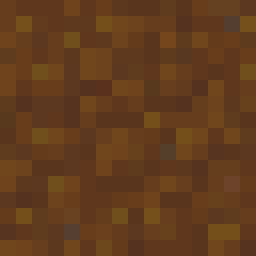 | | |
| --- | --- |
| Name: | Dirt |
| Type: | Solid |
| Mine with: | anything |
| Found naturally: | In abundance! |
| Renewable: | No |
Dirt is arguably the second most common resource in Mine Blocks, after stone. It is very easily found in forest biomes, plain biomes, mountain biomes, and mushroom biomes. It can be mined with the hand. When a block of dirt has no solid blocks at least up to 3 blocks above it, it will eventually switch to a grass block. When tilled with a hoe, it switches to farmland.

Dirt is good for growing trees, flowers, mushrooms, and sugarcane. It also is the only block that passive mobs, such as pigs and cows spawn on.
Pictures
Trivia
The grass block and dirt block have the same item/block ID, so it is not possible to obtain a grass block.
Easily get rid of the dirt when using Acid.
The design of the Dirt has been updated in the update 1.27, such as Water, Lava, Acid, Obsidian, Netherrack, Sign, Odd Rock, Odd Rock Ore, Topaz, Fiber, Dragon scale, Moss, Raw chicken, Cooked chicken, chicken nugget, Golden apple seed, Golden apple sapling, Clay, Paper, Lever and Rope.
Bugs
Since the dirt block only checks 3 blocks above it, it maybe change to dirt underground.
See Also