Empty Bucket
Jump to navigation
Jump to search
If you find a typo, inconsistency, or error, please sign up and help out the wiki! We can't do it without your help! :D Thank you!
Bucket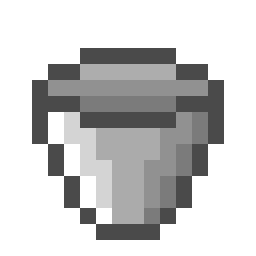 | | |
| --- | --- |
| Name: | Bucket |
| Type: | Item |
| Stackable: | No |
| Found naturally: | Yes |
| Renewable: | Yes |
| Identifier: | bucket |
A bucket is an item that can carry liquids, which include milk, lava, water, and acid.
Obtaining
When a bucket with a liquid inside it is emptied using shift-click, it will leave the bucket.
Natural Generation
Buckets can be found in 21.8% of loot chests in stacks of 1.
Crafting
The bucket is crafted using three iron ingots.
Buckets are left in the crafting table after the player uses buckets of milk in a crafting recipe, such as for cake and ice cream.
Smelting
The bucket is left behind if a bucket of lava is used as furnace fuel.
Usage
Liquids
To obtain liquids, the player must shift-click on the source block of the liquid while holding a bucket.
Cows
The player can shift-click on a cow or mooshroom while holding a bucket to make a bucket of milk.
History
Version
Date
Changes
Prior to 1.4.34
Day 15
1.19.4
Dec 11, 2011

Fixed buckets
Removed infinite bucket glitch

1.23
Oct 31, 2012

Buckets can be retrieved after making cake

1.24
Dec 22, 2012

Updated the texture of the bucket

1.26.5
Jul 03, 2014

Bucket of lava returns an empty bucket in the furnace
See also