Bucket of lava
If you find a typo, inconsistency, or error, please sign up and help out the wiki! We can't do it without your help! :D Thank you!
Bucket of lava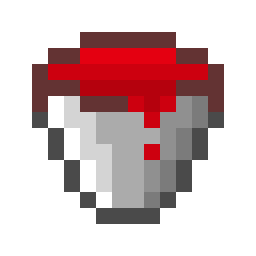 | | |
| --- | --- |
| Name: | Bucket of lava |
| Type: | Item |
| Physics: | None |
| Found naturally: | No |
| Renewable: | Yes |
The bucket of lava is an item that allows the player to transport lava.
Obtaining
Bucket
If you shift click on a block of lava while holding a bucket, you will get a bucket of lava.
Usage
When lava is in the player's hand and the player shift-clicks, a block of lava is placed, and the bucket in their inventory turns into an empty bucket.
Fuel
| Item | # of items smelted | Notes |
| --- | --- | --- |
| | 100 | It is a very efficient fuel |
History
| Version | Date | Changes |
| --- | --- | --- |
| Prior to 1.4.34 | Day 15 | |
| 1.24 | Dec 22, 2012 | Updated the texture of the bucket of lava |
| 1.26.5 | Jul 03, 2014 | Bucket of lava returns an empty bucket in the furnace |
See also