Bucket
If you find a typo, inconsistency, or error, please sign up and help out the wiki! We can't do it without your help! :D Thank you!
Bucket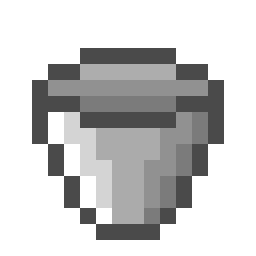 | | |
| --- | --- |
| Name: | Bucket |
| Type: | Item |
| Found naturally: | Yes, in chests |
| Renewable: | Yes |
| Item ID: | bucket |
A bucket is an item that will carry liquids, which include milk, lava, water, and acid.
Obtaining
When a bucket with a liquid inside it is emptied using shift-click, it will leave the bucket.
Natural Generation
Buckets have appear in 21.8% of loot chests in stacks of 1.
Crafting
The bucket is crafted using three iron ingots.
Buckets are left in the crafting table after the player uses buckets of milk in a crafting recipe, such as for cake and ice cream.
The bucket is also left behind if a bucket of lava is used as furnace fuel.
Usage
Liquids
To obtain liquids, the player must shift-click on the source block of the liquid while holding a bucket.
Cows
To obtain a milk bucket, the player must shift-click on a cow or mooshroom with a bucket, which can be drank or used in crafting.
See Also