Door
Jump to navigation
Jump to search
If you find a typo, inconsistency, or error, please sign up and help out the wiki! We can't do it without your help! :D Thank you!
Door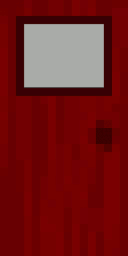 Name:
Door
Type:
Solid
Mine with:
Axe (Wooden and Bamboo)
Pickaxe (Iron)
Drops:
Itself
Stackable:
Yes, 64
Flammable:
Yes (Wooden and Bamboo)
No (Iron)
Physics:
None
Renewable:
Yes
Identifier:
wooden_door
iron_door
bamboo_door
The Doors are a block that allows entities to pass through if it is interacted or powered.
Obtaining
The wooden door and bamboo door can be broken by hand, but using axe will speed up the process. The iron door must be broken using pickaxes to drop themselves.
Breaking time: Wooden Door
Tool
Default
Time
1.8s
1.12s
.6s
.28s
0.04s
0.04s
Breaking time: Bamboo Door
Tool
Default
Time
1.8s
1.12s
.6s
.28s
0.04s
0.04s
Breaking time: Iron Door
Tool
Default
Time
4.8s
2.4s
1s
0.28s
0.28s
0.04s
Crafting
The doors can be crafted using the crafting table, and making two columns (one after the other) with either Wooden Planks, Bamboo, or Iron Ingots.
Usage
All doors are two blocks high, and can be opened by the player by interacting or powering it.
When the door is closed, it will have less than a fourth of a block in width. When it is opened, it will occupy a full block. While wooden and bamboo doors can be opened by interacting with it, iron doors require to be powered to open (for example: by using a button, a pressure plate, or a redstone torch near it).
Placement
Doors can not be moved with pistons nor with sticky pistons, and needs to have a solid block below for it to be placed.
Wooden and bamboo doors will catch fire if it's close to lava or any other fire source, while the iron one won't.
Task
Number
Icon

[ng]

Name
Newgrounds name
Description

[ng]

Objective
Points

[ng]

Requirements
33
Open a door with wiring
Open Door with Wiring
Open a door with redstone or a pressure plate!
Open a door with a redstone torch, button, lever, or with a pressure plate
5
×1 ×1 [ / / / ]
History
Version
Date
Changes
Prior to 1.4.34
Day 11
Prior to 1.4.34
Day 16

Doors make sounds
Fixed doors

1.7
Unknown release date

Door can now face two different directions

1.8.8
Jul 29, 2011

Redstone can be used to open/close doors

1.19
Unknown release date

Misplacing a door doesn't remove it

1.23
Oct 31, 2013

You can open doors with items like seeds in your hand

1.27
Nov 13, 2015

Fixed doors being pushed by pistons (Found by Aftermoth)
See also