Difference between revisions of "Moss"
Jump to navigation
Jump to search
If you find a typo, inconsistency, or error, please sign up and help out the wiki! We can't do it without your help! :D Thank you!
Line 29:
Line 29:
 

|outputpic=Moss_stone.png

 

|outputpic=Moss_stone.png

 

}}

 

}}

 
+
 
+
 
+
---
Revision as of 15:11, 15 November 2015
Moss is an object in Mine Blocks that can be found on cobblestone when it rains. It can be mined with shears.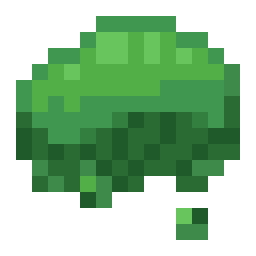 Uses
It can be made into mossy cobblestone by placing cobblestone in the middle and placing moss all over it. This is currently it's only use, and mossy cobblestone is a decorative block.
Trivia
The design of the Moss has been updated in the update 1.27, such as Water, Lava, Acid, Dirt, Obsidian, Netherrack, Sign, Odd Rock, Odd Rock Ore, Topaz, Fiber, Dragon scale, Raw chicken, Cooked chicken, chicken nugget, Golden apple seed, Golden apple sapling, Clay, Paper, Lever and Rope.