Shears
Jump to navigation
Jump to search
If you find a typo, inconsistency, or error, please sign up and help out the wiki! We can't do it without your help! :D Thank you!
Shear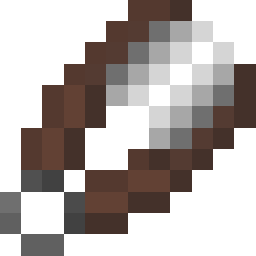 | | |
| --- | --- |
| Name: | Shear |
| Type: | Item |
| Durability: | Yes |
| Found naturally: | No |
| Renewable: | Yes |
| Identifier: | shear |
Shears can be used to delicately obtain certain items, such as leaves, grass, and wool from sheep.
Obtaining
Shears are crafted using two iron ingots placed diagonally of each other. This recipe can be flipped.
Usage
Shears can be used to break things like grass, leaves, and shrubs, dropping them as items.
Sheep
Shears can also be used to obtain wool from sheep by shift-clicking. This makes the sheep naked, however it will grow back its wool when it next eats grass.
Pumpkins
Shears can be used to carve faces into pumpkins, by shift-clicking. Every time this is done, it will change to the next texture, eventually looping back to the uncarved texture. This does not use up the shears' durability.
History
Version
Date
Changes
1.19.4
Dec 11, 2011
1.24
Dec 22, 2012

Shears lose durability when used

1.27
Nov 13, 2015

Fixed shears
Shears can be used to carve pumpkin faces

1.28
Oct 08, 2016

Shears lose durability when used on sheep
Gallery
None
See also