Diamond
Jump to navigation
Jump to search
If you find a typo, inconsistency, or error, please sign up and help out the wiki! We can't do it without your help! :D Thank you!
Diamond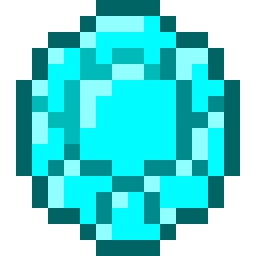 | | |
| --- | --- |
| Name: | Diamond |
| Type: | Item |
| Physics: | None |
| Found naturally: | Yes |
| Renewable: | Yes (Dropped by Enderman -- rare) |
| Identifier: | diamond |
Diamonds are a gem used in many useful crafting recipes.
Obtaining
Mining
One diamond is dropped by diamond ore if mined with an iron pickaxe or above. If the player does not use an iron pickaxe, then diamond ore is unbreakable.
Natural Generation
Diamonds can be found in 21.8% of loot chests in stacks of 1-3.
Enderman
There is a really small chance that a diamond is dropped by an enderman. The chance of this occurring is 1/200, or 5%. While this makes the diamond technically renewable, it hardly affects the amount of diamonds which any player has.
Crafting
Nine diamonds can be crafted back from a diamond block.
Usage
Diamonds are really useful, as they are required in a lot of end game recipes.
Crafting Ingredient
The block of diamond is a more compact way of storing diamonds, because one block is holds nine diamonds.
Two diamonds are required in the crafting recipe for the enchantment table.
A diamond is required in the crafting recipe for the monster spawner.
One diamond is required to craft a healing crystal.
Diamonds can be crafted into armor.
| | |
| --- | --- |
| Diamond Helmet | Diamond Chestplate |
| Diamond Leggings | Diamond Boots |
Diamonds can also be used to create tools.
Diamond pickaxe

Diamond sword

Diamond shovel

Diamond axe

Diamond hoe
History
| Version | Date | Changes |
| --- | --- | --- |
| First 30 days | Unknown | |
| First 30 days | Day 10 | Diamond is only dropped by diamond ore if collected with the correct tool. |
| First 30 days | Day 28 | Diamonds now generate in loot chests |
| 1.8 | Unknown release date | |
| 1.23 | Oct 31, 2012 | Diamonds are now dropped by endermen, making them renewable |
Trivia
Diamond armor, in real life, would be useless, since the form of particles giving it its crystal texture means it can be cut easily at an angle where it is flat. Since it is a game about blocks any 90' hit would slice your diamond armor in half. Lucky for us this doesn't happen!
Gallery
See also