Sign
Jump to navigation
Jump to search
If you find a typo, inconsistency, or error, please sign up and help out the wiki! We can't do it without your help! :D Thank you!
Sign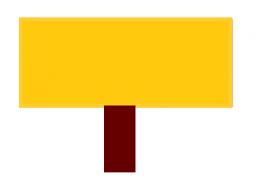 | | |
| --- | --- |
| Name: | Sign |
| Type: | Object |
| Mine with: | Hand/Axe |
| Physics: | None |
| Found naturally: | No |
| Renewable: | Yes |
| Identifier: | sign |
Signs can display information on them. You have to just hover over them to read them. To edit what is written on them, shift-click them.
Crafting
To craft a sign, first, fill the top and middle rows with wooden planks. Finally, place a stick (or bamboo) in the middle of the bottom row. You will get 3 signs.
Uses
You can use a sign to mark things. For example, your mines or buildings. You can also use signs to mark directions to places, if you want, using an arrow '--->'.
Secrets
Special Characters are available! Some are:
Option-8 =Thumbs Up 👍
Option-Shift-7 =No Entry Sign/Crossed Circle 🚫
Option-T =Bomb 💣
Shift-\ =Heart ❤
Option-} =Lock 🔒
Option-Shift-Dash =Music Note/Semiquaver/16th Note ♬
and the boring ones, ™, £ and all.
FIND THEM ALL!
Trivia
The design of the Sign has been updated in the update 1.27, such as Water, Lava, Acid, Dirt, Obsidian, Netherrack, Odd Rock, Odd Rock Ore, Topaz, Fiber, Dragon scale, Moss, Raw chicken, Cooked chicken, chicken nugget, Golden apple seed, Golden apple sapling, Clay, Paper, Lever and Rope.
Pictures