Obsidian
Jump to navigation
Jump to search
If you find a typo, inconsistency, or error, please sign up and help out the wiki! We can't do it without your help! :D Thank you!
Obsidian.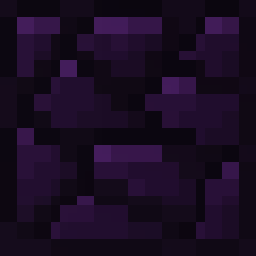 | | |
| --- | --- |
| Name: | Obsidian. |
| Type: | Solid, block. |
| Mine with: | Pickaxe. |
| Drops: | Itself. |
| Stackable: | Yes, 64. |
| Physics: | No. |
| Found naturally: | Yes. In Nether and in The End. |
| Renewable: | Yes. |
| Identifier: | obsidian |
Obsidian is a material found naturally in Nether and in The End or created in the Overworld when a water flux makes contact with a lava source block. Obsidian can only be mined with a Diamond Pickaxe and is the toughest mineable block. This block resist explosions. Nether Eyes, when killed, could drop Obsidian.
Pictures
Trivia
Obsidian is the second most resistant block in Mine Blocks and Minecraft (in the first place is the Bedrock).
The design of the Obsidian has been updated in the update 1.27, such as Water, Lava, Acid, Dirt, Netherrack, Sign, Odd Rock, Odd Rock Ore, Topaz, Fiber, Dragon scale, Moss, Raw chicken, Cooked chicken, chicken nugget, Golden apple seed, Golden apple sapling, Clay, Paper, Lever and Rope.