Minecart
If you find a typo, inconsistency, or error, please sign up and help out the wiki! We can't do it without your help! :D Thank you!
Minecart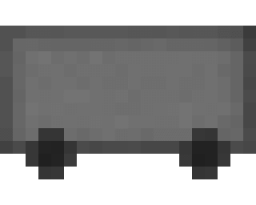 | | |
| --- | --- |
| Name: | Minecart |
| Type: | Item, Entity |
| Drops: | Itself |
| Stackable: | No |
| Renewable: | Yes |
| Item ID: | minecart |
Minecarts are transportation placed on rails that can be used to carry the player.
Obtaining
When broken by the player, the minecart will drop itself.
Crafting
The minecart is crafted out of five iron ingots. This makes it renewable, because iron ingots are dropped by the zombie.
Usage
The minecart can be placed using shift click, however it can only be placed on rails.
Transportation
They are used as a form of transportation to cover long distances since they are much faster than walking. They are faster though, on a powered rail.
Crafting Ingredient
When the minecart is combined with TNT, it crafts a TNT minecart.
History
Version
Date
Changes
1.26
May 31, 2014
1.27
Nov 13, 2015

Fixed minecarts being stuck tilted when falling off a slope - Found by WSDGuy2014
Fixed minecart collision bugs
Bugs
When a minecart is broken or the player jumps out of a minecart on a slope, the character model stays pointing in the same direction as the minecart until the player dies, or gets back in a minecart.
Gallery
See Also