Chest minecart
Jump to navigation
Jump to search
If you find a typo, inconsistency, or error, please sign up and help out the wiki! We can't do it without your help! :D Thank you!
Chest minecart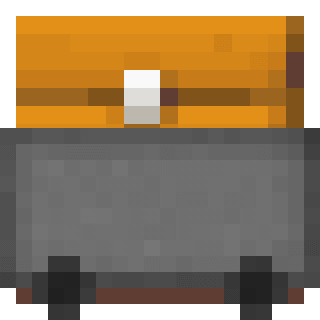 | | |
| --- | --- |
| Name: | Chest minecart |
| Type: | Item |
| Renewable: | Yes |
| Identifier: | chest_minecart |
The chest minecart, as the name suggests, is a minecart that contains a chest, meaning that it can be used for mobile storage. It is crafted by placing a chest directly above a minecart in the crafting grid. When destroyed, it drops itself and anything that was inside the chest.
Obtaining
The only way to get a chest minecart is through crafting. When hit enough times by the player, the chest minecart drops itself.
Crafting
A chest minecart is crafted using a chest and a minecart.
Usage
The chest minecart can be placed on any type or rail. The chest minecart can be powered using a furnace minecart or powered rails. It can also be used to trigger a redstone signal via a detector rail. The main use of the chest minecart is to be used for mobile transportation. Using rails you can get any items or blocks to another destination.
History
| Version | Date | Changes |
| --- | --- | --- |
| 1.29 | Sep 27, 2019 | |
Trivia
The chest minecart can trigger a redstone signal via the detector rail.