Bucket of acid
Jump to navigation
Jump to search
If you find a typo, inconsistency, or error, please sign up and help out the wiki! We can't do it without your help! :D Thank you!
Bucket of acid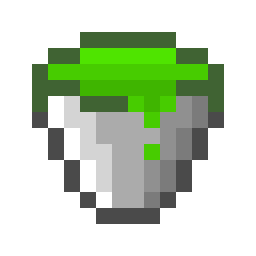 | | |
| --- | --- |
| Name: | Bucket of acid |
| Type: | Tool |
| 'Mine with: | 'Cannot be placed. |
| Physics: | None. |
| Found naturally: | No. |
| Renewable: | No |
The Bucket of Acid, when used, places a acid block which automatly desintegrates some natural blocks like the Dirt, Wood and Wooden Planks. As the Bucket of Lava, can be used to make a Cobblestone / Obsidian farm.
Obtaining
You can also make an cobblestone and obsidian farm (as explained above).
You can protect your houe by using acid on any zone closer of your house.
Can be used to illuminate dark zones (same with Lava).
Hystory
Prior to 1.8.8
Additions
1.27
Updated graphics
Bug Fixes
Fixed acid being completly wacko.
Acid destroys all leaf types (Found by Aftermoth)
See Also