April Fools
Jump to navigation
Jump to search
If you find a typo, inconsistency, or error, please sign up and help out the wiki! We can't do it without your help! :D Thank you!
Zanzlanz has 'pranked' his fanbase in a couple of ways for past April Fools' days.
2013
Zanzlanz released a new version of Mine Blocks 2 and said that he added multiplayer, with the message below:
As most people already know, I've been working hard on getting multiplayer to work in Mine Blocks 2. I have posted numerous screenshots and updates on it on various sites. It is completely true. That's why it's not hard to believe that I'd release a sampling of multiplayer.
However if the player plays for 10 minutes, this appears on the screen:
April Fools! Multiplayer is still not released. Haha,sorry!
2013's April Fool's also included some "real" updates for Mine Blocks 2.
2014
In 2014, Zanzlanz said that Mine Blocks was updated to 1.27 and he also posted a link. This was in the description of the update:
The newest features are multiplayer, Herobrine (he shows up when you summon him), and over 75 new lemon-themed items (including the lemon dimension and lemon dragon boss fight)! I fixed a few more bugs too. To join a multiplayer server, just login to the new update, click 'Play!', and select 'Multiplayer'. Type in your friend's IP address, and BOOM! :D
This was the screenshot Zanzlanz posted: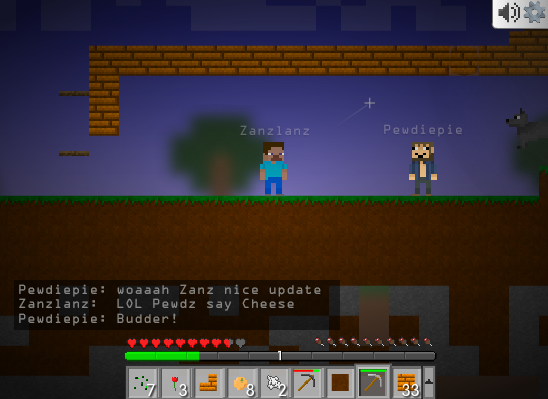 2016
In 2016, Zanzlanz tweeted about the "Realistic Tree". This is what he said:
No one talks about the realistic tree item anymore. Here's how to craft, it if you forgot! :)
This is the image he posted: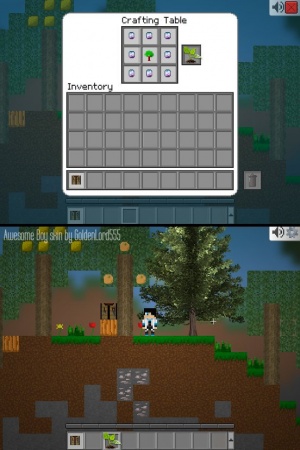 See also