Zombie pigman
If you find a typo, inconsistency, or error, please sign up and help out the wiki! We can't do it without your help! :D Thank you!
Zombie Pigman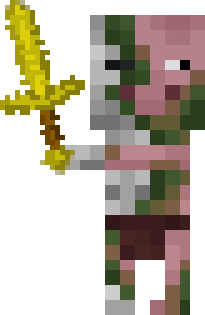 Zombie pigman is a neutral mob that spawn in the Nether.
Spawning
Zombie pigmen spawn in the Nether, usually in groups, also a zombie pigman can spawn from a pig that has been struck by a lightning.
Drops
They drop 0-1 Rotten Flesh, 0-1 Gold Nugget, 1 Gold Ingot (2.5%), 1 Golden Sword (8.5%) and experience points.
Behavior
A zombie pigman will not be aggressive unless the player attacks them, if there are more than one they will make a team to defeat you.
Pictures
See Also