Ghast
If you find a typo, inconsistency, or error, please sign up and help out the wiki! We can't do it without your help! :D Thank you!
Ghast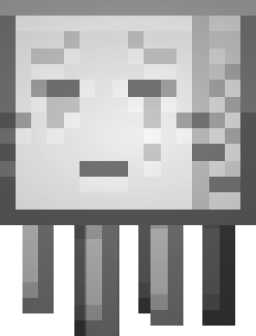 The ghast is a flying hostile mob found in the Nether.
Spawning
The ghast spawns naturally in the Nether. It requires a 2x3 area of empty blocks above solid ground to spawn.
The ghast can also be spawned using its spawn egg.
Drops
The ghast drops 0-2 gun powder, 0-1 ghast tear and experience points upon death. This makes the ghast tear and gunpowder renewable resources.
Behavior
The ghast floats around aimlessly until it catches sight of a player. When it sees the player it will open its mouth and shoot a fireball from its mouth. It will repeat this every so often, trying to follow the player. These fireballs are very powerful and can do a lot of damage to the player and surrounding blocks. However, the player can avoid being hit by hitting these fireballs, causing them to go back in the opposite direction.
Tasks
| # | Task | Objective | Needs |
| --- | --- | --- | --- |
| 43 | Slay a ghast by its fireball | Kill a ghast from the Nether by hitting its fireball back at it. | |
History
| Version | Date | Changes |
| --- | --- | --- |
| 1.28 | Oct 8, 2016 | |
Gallery
See Also