Topaz ore
From Mine Blocks Wiki
READ THIS!! IT IS REALLY REALLY IMPORTANT!!
I'm about to run a script deleting over 16,000 users from the site!! This will get rid of almost all of the spammers! Check if your name is ON THIS PAGE!! IF IT ISN'T, add a new topic to my TALK PAGE with your username and I will make sure your account goes on the list!
Also, account registration is CLOSED right now. Sorry, but I need to make sure no one accidentally gets deleted last minute.
Okay thank you! :3
Topaz is a gem found deep within the Mine Blocks world. It's rate of appearing is 7/10 so it's not the rarest gem. It currently has no use, but in a later version of Mine Blocks, Topaz could be used to trade with villagers.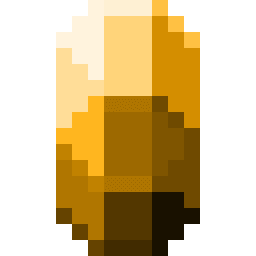 Trivia
The color of topaz in-game has been changed many times. It was originally blue, then changed to yellow. After that it was changed back to blue.
Although in real life, topaz is transparent, in the game it is blue. This is to avoid confusion with diamonds.
Topaz in real life can also have an orange color.